Influencer marketing has become a marketing trend this year. Brands have used it to build their engagement with the audience, and to grow and increase sales traffic. While influencer marketing campaigns offer an impressive Return On Investment (ROI), you may be concerned that your campaigns aren't getting the most bang for your buck. Like any other marketing strategy, influencer marketing is not a one-night strategy. However, if you collaborate with the right influencers, the chances of success for your brand's campaign will be sky-high.
Dunkin' Donuts is one example of a brand that has successfully maximized its influencer marketing strategy. In one of their campaigns, Dunkin' Donuts wanted to create a buzz for their new espresso product category. Dunkin' Donuts used Instagram nano-influencers to launch the #sippingisbelieving campaign. The campaign seems realistic and relevant to a wide range of audience demographics, something that may be difficult for a very popular celebrity or influencer to replicate. Since Instagram nano-influencers and micro-influencers are cheaper to reach, it gives Dunkin' Donuts the opportunity to achieve higher ROI as a parameter of influencer marketing success.
However, it doesn't stop there. Throughout 2020-2021, Dunkin Donuts conducted a campaign in collaboration with TikTok superstar Charli D'Amelio. The collaboration paid off big for Dunkin' Donuts, as well as a huge success for a brand trying to reach a new audience. The collaboration between Dunkin' Donuts and Charli D'Amelio is an example of successful influencer marketing. Let's understand the process from collaboration, results, and what we can learn from Dunkin' Donuts' successful campaign.
Influencer-Brand Collaboration
Charli D'Amelio is the biggest superstar on TikTok. She is the most followed content creator on TikTok, with over 140 million followers, the majority of whom are Gen-Z. With a large platform and an audience size larger than the demographics of most countries, Charli D'Amelio is a mega-influencer who has the power to increase sales and improve branding for any company. Charli D'Amelio has also expressed her love for Dunkin' Donuts in her content, without any official binding partnership.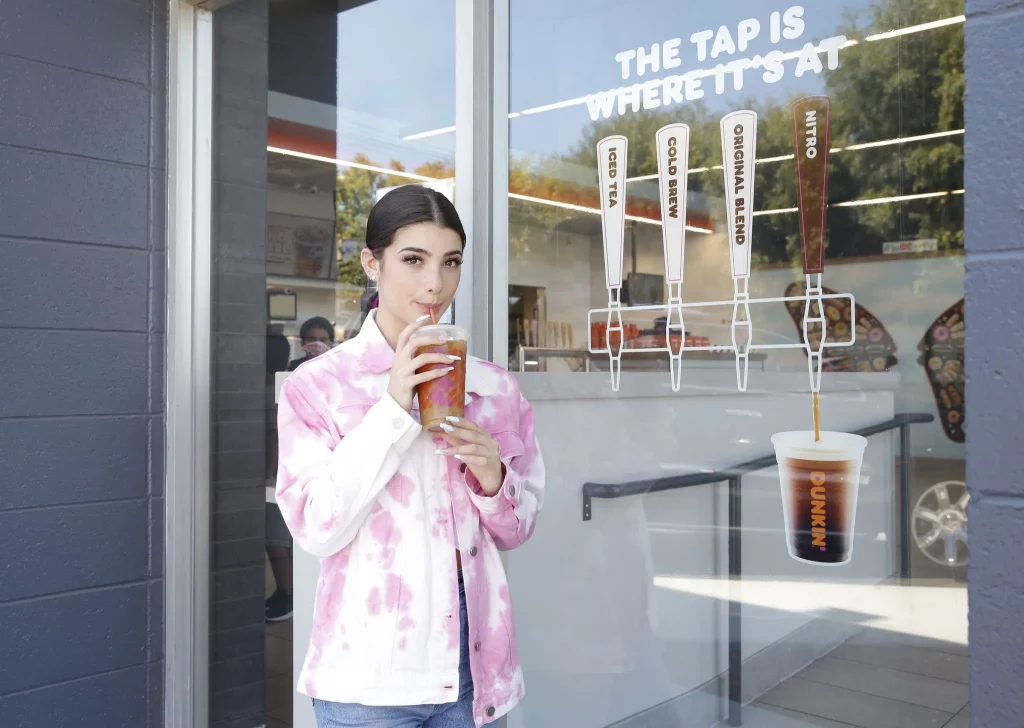 Dunkin' Donuts is a highly successful coffee and donut supply chain company. However, they compete with Starbucks to dominate the younger audience. Starbucks has consistently managed to stay trendy on social media, with flagship campaigns such as secret menu tips. Dunkin needs to find a way to match Starbucks' appeal with social media users.
Dunkin' Donuts decided to launch a partnership with D'Amelio. They made a drink called Charli, one of the menu items that D'Amelio says is her favorite. Customers can order a Charli drink at any Dunkin Donuts store. They also launched a "Charli x Dunkin'" contest, where fans had to share photos or videos that recreate iconic Charli and Dunkin' moments. The winners will meet D'Amelio via video conference.
Dunkin Donuts also finally released a second drink and merchandise. This collaboration was heavily promoted by D'Amelio and Dunkin Donuts on their social accounts. That action helps spread information to millions of people around the world, as influencer marketing succeeds.
Results
The campaign was significantly successful as a result. Charli was able to sell hundreds of thousands of cups in the first five days of its launch. There was also a 57% increase in Dunkin' Donuts app downloads, which the brand is trying to maximize. Dunkin' broke its record for daily users of its app on the day "The Charli" product was released. An overall sales increase of 20% for cold drinks on the day they were released, and a 45% increase the following day.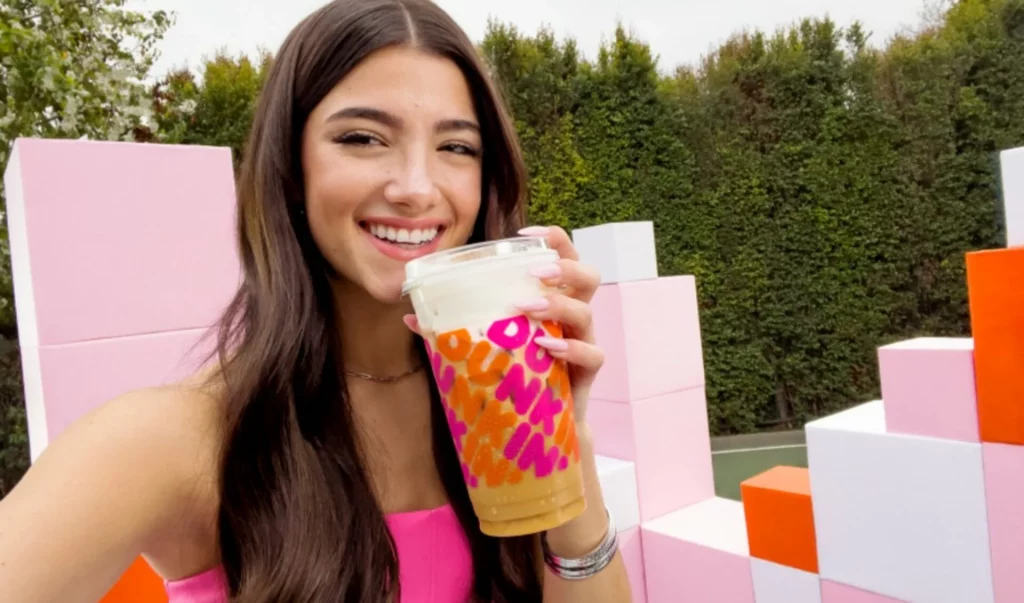 The campaign was a huge success for Dunkin'. The campaign drove huge sales and helped them reach a targeted audience. D'Amelio, who was 17 years old when the partnership began, has cultivated a following with younger average age. This helps Dunkin' reach out to middle school-aged children and teenagers. The strategy also drove traffic to Dunkin' social media accounts and helped Dunkin' to grow its brand as a result of the success of the influencer marketing strategy influencer marketing.
What Can Be Learned from This
There are several takeaways from the success of this collaboration. This collaboration shows the power that influencers can have if used correctly. D'Amelio has a large following and fits the demographic that Dunkin' wants to reach. D'Amelio also has a built-in love for the brand, making the partnership more authentic. Influencer matching is a very important start to a successful influencer marketing campaign.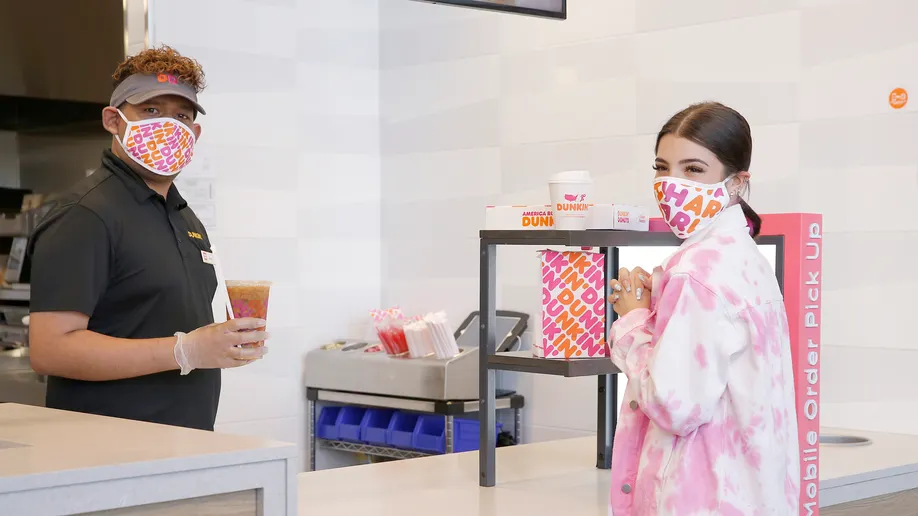 Another key point is how collaboration with influencers can help brands. Dunkin' created a product standard on D'Amelio, and shared it on their social media, then started a contest based on Charli's product campaign. Basically, Dunkin' does all forms of collaboration using many different methods to make it work. Dunkin' Donuts' focued influencer marketing efforts resulted in a huge following. Dunkin' has more than 3 million TikTok followers. While Starbuck's and McDonalds, its main competitors, have 1.7 and 1.9 million followers respectively.
While not all brands are able to collaborate with influencers as big as D'Amelio, there are still important takeaways from this campaign. This collaboration demonstrates the importance of a good fit in choosing influencers, and how a well-executed influencer marketing strategy can make a big difference to a business.
Partnering with an influencer marketing platform can help boost engagement results for your brand's social media. LEMON Influencer Platform is able to answer the needs of influencers that are suitable for your brand campaign, with thousands of influencers who have joined us. Start your campaign by clicking the banner below.